Vision Therapy at Home is the first and only comprehensive vision therapy program designed for the comfort of your own home.
Modeled after our extraordinarily successful in-office programs, the Vision Therapy at Home program addresses the same root causes of vision-related struggles — and you can do it all in your living room.
This innovative program features selected activities aimed at all areas of essential visual skills.  We start with foundational skills: gross motor, eye tracking, and focusing.  Then we progress to eye teaming (binocularity), visual processing skills, and visual learning.
The best part: You don't have to know what any of that means.  This program is straightforward, easy to follow, and requires no prior knowledge of vision therapy.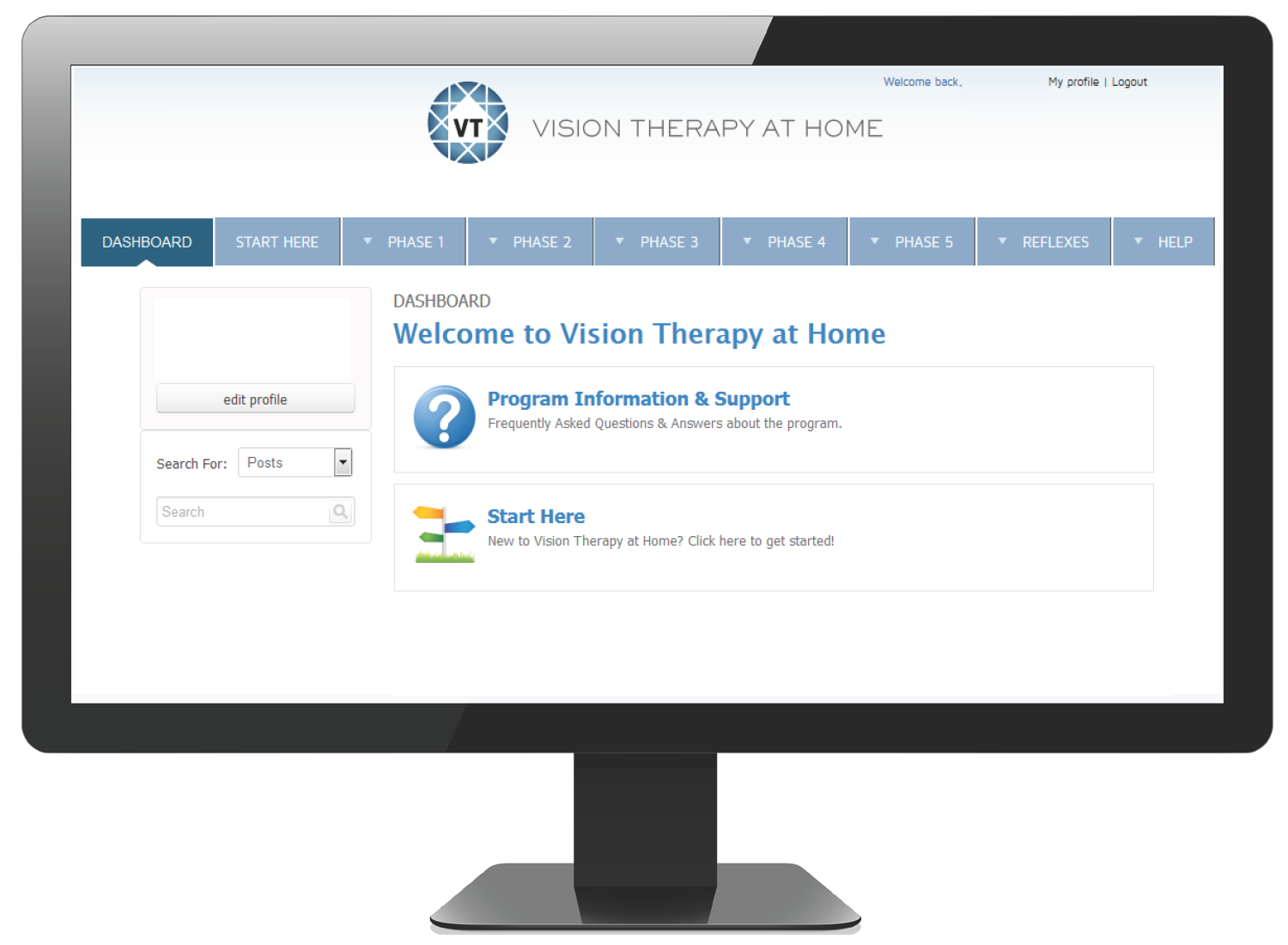 Here's what you get when you purchase the Vision Therapy at Home program:
A doctor created program, with more than 80 specialized activities, specifically designed to address foundational vision issues.

Five easy-to-follow phases released in 10-week intervals.  Each phase comes with clear directions so you can get right to work.

Access to the online course portal for a full two years.  Most people complete the program in one year.  We encourage patients to be consistent and stick with the recommended timeline for optimal results, but we also know that everyone learns at his or her own pace.  That's why we extend a second year of access at no additional charge.

A full materials kit shipped directly to you.  All you'll need is a computer, high-speed internet access, and a printer.

Complete instructions for each activity, including information on when to move to the next activity, tracking sheets, and variations that offer simplified or extra-challenging options.
A comments section under each activity so you can ask questions and get answers.
Activity-oriented videos to effortlessly guide you through the program.
Available support options from our vision therapists.
Free Primitive Reflex Training program included in your purchase.
Full Payment - $957
Save $456 compared to the monthly payment option.

9 Monthly Payments - $157 per month
A convenient monthly option
100% Money Back Guarantee
You have a full 30 days to try out the program.  If for any reason you are not satisfied with your purchase, simply contact us for a FULL refund –
No Questions Asked.
Why It's Worth It
Many visitors to our site — especially those who have looked into the prices of in-office vision therapy programs — are surprised at how affordable the Vision Therapy At Home program is.
Others are, understandably, concerned about the cost. We get it. We know that everyone's budgets are tight.
Here's why people think Vision Therapy at Home is the smartest investment you can make for your family:
Thousands of people pay for our in-office program and still think it's an incredible value. The Vision Therapy At Home program is available at significant savings compared to an in-office program.  In addition, you'll save time (and gas money!) by not having to commute to appointments.
We think you'll agree that a bright future for your child is priceless.  And that's what Vision Therapy offers for so many. Parents routinely find that Vision Therapy:

Ends homework battles
Puts a stop to daily fighting, struggles, and frustrations over school
Makes school and learning fun
Turns children into active, engaged learners — and voluntary readers
Improves grades, opening endless doors
My son Kevin was really struggling with school and I had tried everything – tutoring, extra help at school, and OT – nothing seemed to help.  It wasn't until a friend recommended Vision Therapy at Home that I found the answer I was looking for.
Now after completing the program, Kevin is much more confident in his abilities, he is starting to excel at school, and we no longer have the nightly homework battles.  I would definitely recommend the home vision therapy program!  It was a commitment for our family but I am so glad we saw it through.  It was worth every penny and moment we spent on it.
Thank you for giving me my child back!
Nicole - Mother of Kevin, age 8
It was so frustrating seeing my daughter struggle through elementary school.  I knew she was bright but her performance didn't reflect this.
Once we started the program, improvement was slow and gradual at first. It was not until we were halfway through therapy that I noticed considerable changes. Claire was often exhausted after a day of school.  That has stopped completely.  She loves to read now and can't get enough.
I can't believe the differences!  She is a happier child and I'm a happier father.  I am so thankful for Vision Therapy at Home and recommend it to anyone who has the same concerns.  I'm a true believer that seeing is more than just 20/20 vision.
James - Father of Claire, age 11